17 Gratitudes from 2017
1. Being a guest and "co-producing" Milennials Vs. Classics
3. Finishing the Première Génération Research Project
Worked part of the year at Glendon for the Division of Students, conducting a department-wide research study on the experience of first generation students, a position that gave me more confidence in my research abilities, and also reinforced my interest in higher education.
4. Raising over $600 for the MS Walk (plus a ton on the matching day so even more!)
5. Taking A Weekend Trip to Montreal
Erin Brockobić is a Toronto-based drag queen... and also my best friend. Seeing her start her drag career in 2016 and being her assistant/manager/inspiration/muse/moral compass during Crews & Tangos Drag Race '16 was an amazing experience. But seeing her host the RuPaul Drag Race Season 9 viewing party at Glad Day Bookstore, have a monthly trivia night there, have gigs all over the city (et en Montréal) has been amazing. Her pièce de résistance has been her weekly brunch show, Sippin' T with Erin B, at Glad Day Bookstore - always a blast to see her perform with her weekly guests, and to celebrate being queer!
7. Starting a new job at the MS Society
Five years after being diagnosed with multiple sclerosis, I started working full-time in the Multiple Sclerosis Society of Canada's national office as the Coordinator, National Programs & Services. After being a volunteer for four years where I had the opportunity to meet with elected officials, travel across Canada, and share my story with 100s of people, it's an honour, blessing, and huge responsibility I have to be able to work for the MS Society! It's been about 5 months and I'm loving my work, and the chance to continue supporting the countless Canadians that are affected by MS.
8. Taking a Trip to Texas
9. Being a guest on Marie Heron's Truth Be Told MS podcast
10. Read 52 Books
I set out to read more this year, in an effort to keep learning even while not being in school, and I accomplished it! Well almost - I have two books to finish this last week, but I'm almost there - I'll write another post about them soon!
11. Weddings Galore!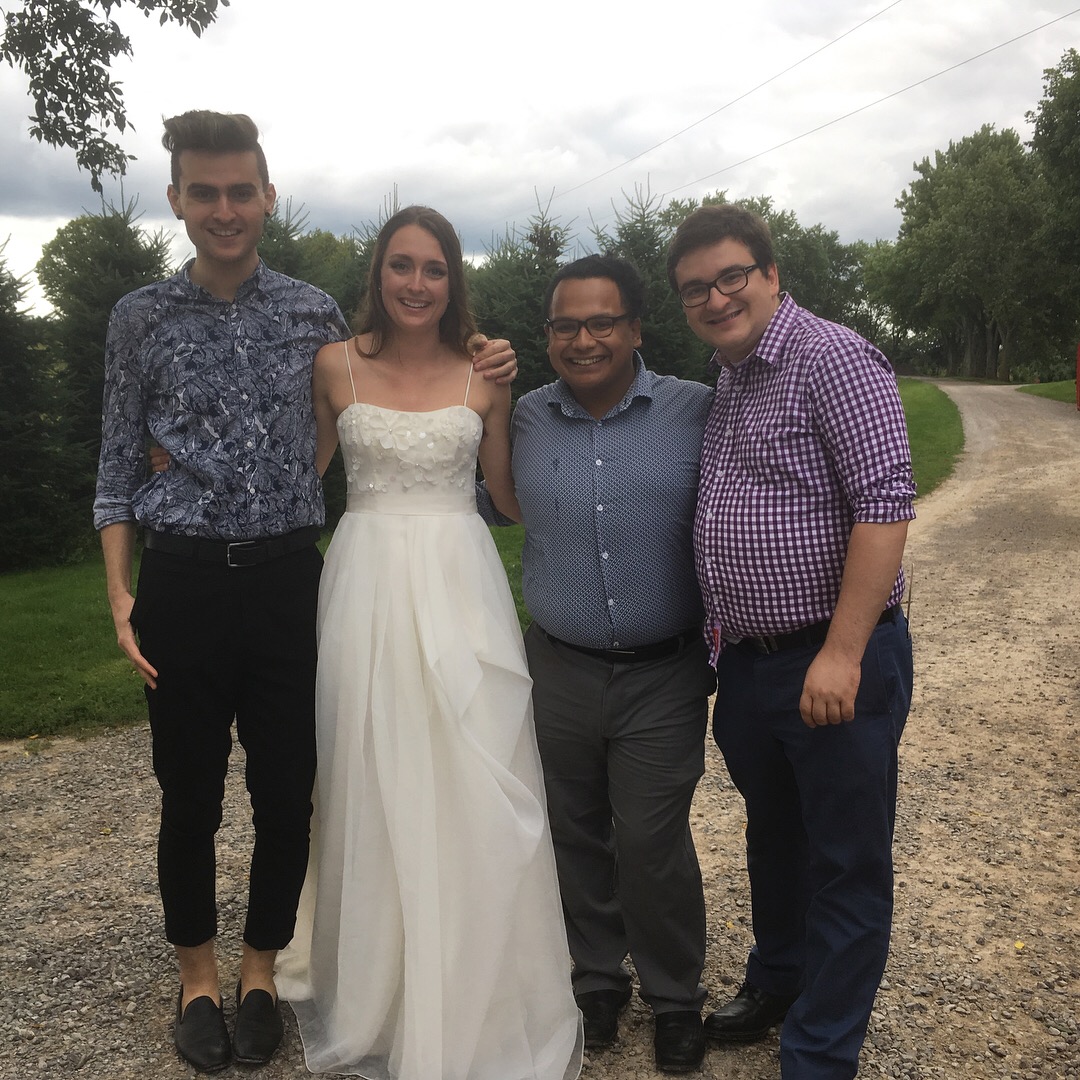 12. Ate Vegetarian the entire year!
In a challenge to myself, and also in an effort to be more mindful and aware of my actions and role in this world, I decided to go vegetarian for the whole year! It was easy since I've been eating more meals with someone who's been vegetarian for 10 years - I think I've had like 5 salad all year because he showed me there is life outside of lettuce. Overall, it's been slightly healthier for me, but that's not a strict rule - deep fried tofu is one of my new favourite things! It's been great exploring new recipes, and being more mindful of what I eat.
13. Read more news
I was originally hesitant to write a post like this since I know that 2017 was a very hard year for many people. With political instability around the world, natural disasters, and so much else that can negatively affect people's lives and quality of life, it's been a hard year to pay attention to the news. However, this year, I vowed to myself that I would try to stay as informed as possible - following a slew of journalists, listening to a lot of news podcasts, and finding ways I can volunteer, contribute, and great charities to support. Being an ally for me starts with being informed, and finding ways to support, lift up the voices of other communities, and not shying away from bad things happening in the world.
Sometimes I need to take steps to self-care in order to avoid being overwhelmed with everything happening, but I find ways to balance taking care of myself, and taking steps to be an informed global citizen.
14. Concerts and Concerts and Concerts
I consider myself to lucky to live in the greatest city on Earth. Being in Toronto I'm exposed to art, music, theatre, food, ways of understandings, and communities. Yeah, it's not perfect, but for me, it's home, and I can't imagine being anywhere else.
16. Took care of myself
A constant journey of self-improvement and self-development means trying different ways to take care of myself, and being kind to myself when I slip up with new habits. I know and recognize the benefit of going to the gym regularly, meditating regularly, and ensuring I have my affairs in order, as I've gone through bouts through the year where I've been at the top of my game in all these respects. There have also been times where I've left those at the wayside of my mind.
17. Lots and lots of love!
Overall, what I've cherished and been thankful for the most this year is how much love I've received, been able to give, and have been witness to. I know that I'm surrounded by amazing family and friends, who are all doing amazing things in their own communities. Seeing the charity of individuals in the face of disaster, oppression, and injustice has been inspiring, and pushes me to do the same. There is a lot of darkness in the world, but I see everyday as a chance to respond to the darkness with active hope and radical empathy.